Catholic Nuns in California Are Fighting to Keep Katy Perry from Purchasing Convent

Catholic Online
Catholic Online
In 2014, singer/songwriter Katy Perry paid a visit to Boston, MA and took place in an event called the Salem Witch Walk.
The star also stopped in a Crow Haven Corner, Salem's oldest witch shop. She posed with a friend beneath a sign reading, "Who are Witches?" and captioned the image, "Which witch is which?"
Unlike many events in the United States, the Salem Witch Walk isn't just a tourist attraction. According to their Facebook site, the event planners claim "real Salem Witches" teach "the truth about Witchcraft" and allow visitors to tour "enchanting sites, learn about charms, spells, and hexes" and each guest is gifted with a "magic crystal blessed by a Salem Witch!"
Perry, who has been hard at work to purchase a former convent in Los Angeles for the past several years, was called "disgusting" by the nuns who refuse to sell the property.
Seventy-eight-year-old Sister Rita Callanan and 86-year-old Sister Rose Catherine Holzman belong to the Order of the Immaculate Heart of the Blessed Virgin Mary. They believe Perry should not be allowed to purchase the property due to her anti-Catholic lifestyle.
"[I would] not be very happy at all if Perry got the property. I do not like Katy Perry's lifestyle," Sister Callanan told Daily Mail.
"I gave a lot of the things from the internet to show the Archdiocese what kind of woman she was," she continued. "Some of the things she does are disgusting."
The Sisters were so against selling to Perry that they turned to Pope Francis and his lawyer for aid.
"We have a lawyer in Rome," Sister Callanan shared. "I just don't think the Pope will let the Archbishop sell to Katy Perry."
Speaking from her home at St. Bernadette Catholic Church in Los Angeles, Sister Callanan said Perry met with the nuns "dressed very nicely and said: 'I have this tattoo on my wrist and it says Jesus.'"
The Sister admitted she wanted to respond, "yes and what is the tattoo on your behind?" but held her tongue. Instead, she questioned Perry on previous comments she made as she moved from Christian music to secular pop.
At the time, Perry had claimed she sold "her soul to the devil."
Continuing her line of questioning, Sister Callanan asked what Perry wanted to do with her life, to which the singer responded: "Well I don't know, that's why I want that property because I want to go down and sit down and drink green tea, and just go to the meditation garden and just meditate."
The Sister shared, "I just thought 'oh brother.'" She also claimed Perry said she "brought her mother Mary to the meeting and I just thought, 'Oh God help us.'"
When asking about Perry's trip to Salem, she asked if the star was "into witchcraft."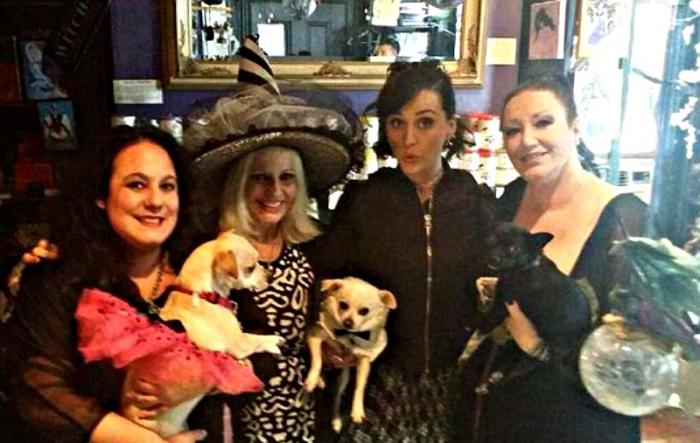 Nuns blast Katy Perry for claiming to not know she was at a Salem witchcraft event (The Salem Witch Walk/Facebook).
"She looked over at one of her people and said: 'Did I go to Salem, was I in Salem?' I said: 'Come on, you didn't know you were in Salem at a witchcraft thing. You don't remember it? That would stick out in my mind. I read it, was that incorrect information?'"
Perry replied: "I'm sorry but I am just not into witchcraft and I am just not into people who are into witchcraft."
Sister Callanan said: "It disturbs me, and that was our mother house and our retreat house and it's sacred ground."
The nuns stake claim to the amazing property located in Los Feliz but the Archdiocese of Los Angles also claims it belongs to them, making the sale of the old convent even more difficult.
Image courtesy Wikipedia Commons
It took 1000 coffees, but you've finished your book...
So where to now?
That's where we come in.
We have a team of publishing professionals ready to help you bring your book from your laptop to the world.
We offer cover design, typeset, eBook conversion, and competitive print prices. Oh and you'll also be on Amazon and thousands of websites worldwide.
Let us help you take the next step.
LEARN MORE